I begged mom to take me for a ride so Sunday morning she drove us to the lake.
We walked and walked and walked
There was lots of good smellies (flowers and fishes and goose poop! mmmmm!)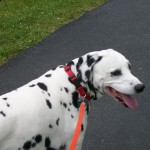 We had to drag Monkeybutt Samson along too
Well, after an hour walk we got back to the car and guess what?! Mom couldn't find her car keys.
We got to play bloodhounds and found them in the grass by the water. (mom did actually, we were pretty tired and really didnt want to go for another walk)
 Mom said something I couldn't understand bout having to carry keys and poop bags and treats and water and having shallow pockets…..well the air was blue.
She must have cooled off cause she stopped at McD's and got me a box of my favorite junk food…Chicken McNuggets. I even gave Monkeybutt a couple.
Hope everyone will have a great 4th of July weekend!
Daisy