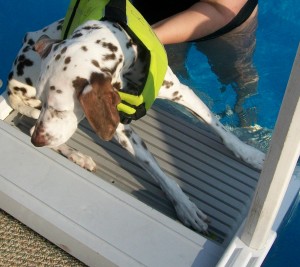 Well its Memorial Day and time for all NYers to stop and pause to remember those that have served our country and officially open up our pools.
Daisy donned Rosies Float Coat and we took her for her first home therapy swim.
(If Rosie was just a puppy when she was wearing this float coat OMDoG!
Its still a bit big for Ms. Daisy.
THANKS ROSIE!!!
Happy Memorial Day All !!