OK, I finally got my new wheelchair back last week and guess what!? Mom is only letting me use my new hotwheels SOME of the time and you know what?
I can stand up most every morning to eat my breakfast without my chair AND without falling down.
I can hop around my yard a little bit in a straight line AND sometimes I can even turn
When we go to the park, mom makes me go all the way around without my chair  (sometimes she has to help me by holding my harness) and then she puts me in the chair and we go around the park again.
Today I got really tired and decided to lay down- except I got confused as to if I was in or out of my chair- oops.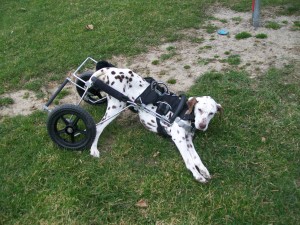 mom said she made appointments at the Therapy Vet next month for me…..eeewww, thats where they lock me in the big aquarium full of water and make me walk. I hate water. If Dalmatians were meant to be in a tank we would have flippers instead of feet.